LETTER FROM THE ARTISTIC DIRECTOR APRIL 15, 2020
#PENUMBRASTRONG || Video message from Company Member T. Mychael Rambo & more!
Hello Dear Community,
Well, it looks like we'll be inside a bit longer, but that isn't keeping the creativity at bay! Given our snowy April, we hope you enjoy this piece shared by Penumbra Company Member T. Mychael Rambo. I find the quote he shares from John Edgar Wideman especially fortifying right now.
And don't forget that even under the snow, spring is on it's way. Crocuses and daffodils are pushing up from where they've been sleeping like bursts of sunlight. Robins and house finches are singing their hearts out. Rain will wash winter away. I'm finding joy in watching a pair of cardinals busy themselves with preparing a nest for their new brood. Life goes on.
The best thing we can do for ourselves and for our earth is to take this time to slow down, rest, find gratitude and small gestures of hope offered up by the universe.
Blessings for good health and peace of mind.
Yours,
Sarah
ARTIST SPOTLIGHT: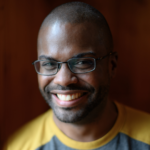 Quote
"How are we going to take the songs of all of this wonderful flock here and weave them together to create this great orchestra that will sing the song of healing? "
—Seitu Ken Jones