LETTER FROM THE ARTISTIC DIRECTOR APRIL 22, 2020
#PENUMBRASTRONG || Video message from Company Member Regina Marie Williams & more!
Hello Dear Community,
I hope this message finds you faring well-the days are getting long and hard to differentiate, aren't they? But there are flashes of inspiration to be found. I have been so moved by the footage of people all over the world applauding and cheering for our courageous emergency responders, doctors, nurses, and essential workers. It's truly humbling to watch them go into work every day.
These authentic outpourings of gratitude demonstrate the best of humanity and show us a way forward. And there's been such creativity, too! Like these guys who found a way to make a tennis game happen four stories above the street. Creativity and ingenuity abounds. We're discovering hidden talents and cultivating new ones.
I hope you'll enjoy these beautiful poems read by Regina Marie Williams and join me in thanking her for sharing a ray of light with all of us.
Until next time, many blessings for good health and peace of mind.
Yours,
Sarah
ARTIST SPOTLIGHT: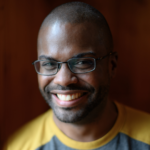 Quote
"How are we going to take the songs of all of this wonderful flock here and weave them together to create this great orchestra that will sing the song of healing? "
—Seitu Ken Jones