LETTER FROM THE ARTISTIC DIRECTOR MAY 6, 2020
#PENUMBRASTRONG || Video message from Company Member Lester Purry & more!
Greetings Dear Community,
If you're feeling like I'm feeling, quarantine fatigue is starting to set in. I'm reminding myself that it is okay to feel fatigue-even as I acknowledge that there are others whose challenges are acute, dangerous, and without respite. I hope that collectively we resist the urge to "rank" our experiences of difficulty, and instead extend generosity and gentleness to ourselves and others as we realize we're all in this together.
Especially in times of hardship, the human spirit seems to rise and artists are often at the forefront of our collective ascent.
Growing up at Penumbra, I learned that before we rise we must fall. Before we heal we must acknowledge that we've been wounded. One of our most profound conjurers of healing was August Wilson. In his frank recognition of the atrocities that befell black people in the United States, he permitted each of us to check our moral compasses, to take inventory of our progress, and to be honest about what still needs to be done. His willingness to confront the legacy of slavery and its enduring impact on American life has brought deep insight and empathy to artists and audiences across the country and truly around the world. But it meant that we had to look at the tough stuff. At Penumbra, we offer an unflinching, realistic, and compassionate window into the African American experience, and we cannot do that without acknowledging our nation's troubled past.
Here in the United States inequity is exacerbating the effects of the coronavirus and racial disparities are making black and brown people especially vulnerable to COVID-19. It seems only right that Penumbra do what Penumbra has always done: to remind us of why these inequities exist, to go back to where we began, and consider how what happened affects where we are today.
I am proud, humbled, and maybe a bit apprehensive about offering this week's video to you. At first I was worried that without context it might offend; and then I remembered what Wilson always knew-that the world is the context, the very inequities that we're grappling with today give us all we need to recognize the truth in these words. This week's offering comes from longtime Company Member Lester Purry whose grit, courage, and sheer talent are visceral here in this quiet rendition of an excerpt from August Wilson's Two Trains Running.
Hard as it is, and as fatigued as we are, we must find the fuel to get to the root of what ails us. We have to be honest about what is poisoning our nation, our people, and our planet. We must learn from our mistakes and rescue ourselves.
May brave art light the way.
Until next time, many blessings for good health and peace of mind.
Yours,
Sarah
ARTIST SPOTLIGHT: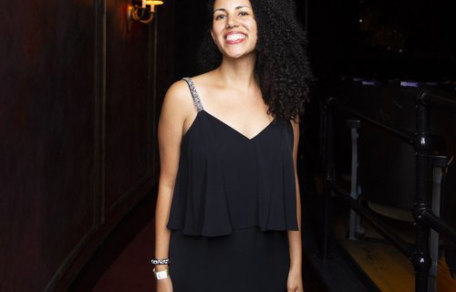 Quote
"How are we going to take the songs of all of this wonderful flock here and weave them together to create this great orchestra that will sing the song of healing? "
—Seitu Ken Jones