LETTER FROM THE ARTISTIC DIRECTOR SEPTEMBER 21, 2020
Remembering Justice Ginsburg | A letter from Sarah Bellamy
Greetings Dear Community,
Oh these days.
I'm sure that so many of you met the news of Justice Ginsburg's death with a heavy heart. I have long admired and felt such a debt of gratitude for her steadfast and unflinching advocacy for women, knowing that being the first of anything is unimaginably difficult. She had a lifetime of "firsts" lined up behind her.
I have been deeply grateful for every media outlet that has taken the time to reflect upon her life and legacy, even as others turn toward political jockeying. It is, of course, necessary that we acknowledge the space open on our highest court. And yet, it is lamentable that the stakes of that position and the urgency of this moment would forgo a durational pause to reflect upon the true impact of this formidable and compassionate woman and how much women everywhere truly benefitted from her service.
Her tenure as a jurist was also marked by a grace and civility that I wish weren't as remarkable as they are. I think of her storied friendship with Justice Antonin Scalia, how much they valued one another, even sitting on different sides of the aisle. Each found their practice deepened by the other, their viewpoints clarified-even changed-by a loving interlocutor. It's hard to imagine that kind of exchange today.
That she passed over Rosh Hashanah, at the start of a new year, cannot be mere coincidence. Perhaps the timing of her death is a signal of better times ahead. I like to think that this woman who fought valiantly against colon, lung, and pancreatic cancer as well as a heart condition got some cosmic assurance at the end of her life that it was finally okay for her to rest.
Losing lions of the fight for justice like Congressman John Lewis and Justice Ruth Bader Ginsburg hurts. And yet, both inspired and mentored young leaders who we must now turn toward with hope and expectation. Thanks to Justice Ginsburg's tireless work, so many women are in position to exercise the gifts of their leadership. We must all support and nurture brave leadership wherever we find it, because today we need it at every level of our society.
Make space to grieve, but don't despair. Instead, let her passing motivate you to help others exercise their rights. Do what you can to turn out the vote. Make sure that correct information is circulating in your social networks. Safeguard the sovereignty of each and every ballot. Protect the right to exercise this most elemental aspect of our national character. In so doing, you will honor her legacy.
May she rest in power and may her memory be a blessing.
With abiding love,
Sarah
ARTIST SPOTLIGHT: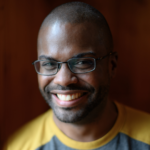 Quote
"How are we going to take the songs of all of this wonderful flock here and weave them together to create this great orchestra that will sing the song of healing? "
—Seitu Ken Jones