LETTER FROM THE ARTISTIC DIRECTOR SEPTEMBER 24, 2020
Good news for Penumbra, more work for our country
Greetings Dear Community,
I write to you, on yet another difficult day for our nation, with good news.
Penumbra has been awarded $3.25 million in recognition of our proud legacy and vibrant future.
With a pledge of $2,500,000 from the Ford Foundation and $750,000 from the Mellon Foundation, national philanthropies are demonstrating equity. Here in Minnesota, McKnight Foundation, the St. Paul and Minnesota Foundation, and the Jerome Foundation have also been strategically powering racial equity as well. After years of advocacy, the tides are starting to turn.
As I'm sure you realize, this is monumental for Penumbra, but it is also huge for the field. This funding represents the kind of pathbreaking advocacy that I hope will inspire philanthropies across the country to make transformative investment in arts organizations of color at this critical time. This funding will ensure that the work we had planned to do to usher Penumbra well and truly into its next life cycle can proceed uninhibited. The next 12-18 months of curriculum development, business planning, and community engagement will realize the Penumbra Center for Racial Healing and equip us to better resource black artists at the heart of our mission.
Penumbra has been leading the fight for racial equity in the arts and philanthropy for decades; our company members have made some of the most impassioned treatises that have inspired change today, including August Wilson's seminal speech "The Ground On Which I Stand" given twenty years ago. For forty years my father advocated for transformative investment in black arts organizations. I've spent fifteen years doing the same. And I'll never forget when one of my colleagues in this work, Dipankar Mukherjee, pledged to do whatever he could to ensure that my children wouldn't be fighting the same battles. We may indeed see that day come.
This moment feels like we're gaining traction toward a tectonic shift in the philanthropic practices that have kept arts organizations of color from fulfilling their potential. For decades, our budget sizes have meant that we earned a fraction of the available arts funding in the market, though our indelible impact on the arts landscape is evident. These historic funding practices don't acknowledge the chronic disinvestment in our organizations and the generations of privilege that helped predominately white institutions grow and build endowments to ensure their survival. The Ford Foundation's recognition of these twenty legacy institutions throughout the country should be a bellwether for funders everywhere to see that transformational investment in arts organizations of color is not only possible, it is the new mandate. Dr. Cornell West has said that "justice is what love looks like in public." We are feeling some love!
And-standing in our ethics-we're sharing the love, too.
As a further enactment of our years of solidarity with our member partners in the Twin Cities Theatres of Color Coalition, Penumbra has worked with a local funder to issue $200,000 of our general operating support to our partners at Pangea World Theatre, New Native Theatre, Theater Mu, and Teatro del Pueblo. While we are proud to be recognized for our storied history and bright future, we know that we need other arts organizations of color to thrive as well. It is imperative that we in the arts rebuild our relationships to and with one another as a fertile ecosystem that can drive progress for our beleaguered nation. The efforts undertaken by the Twin Cities Theatres of Color Coalition over the last seven years has flown in the face of traditional practices in our field and defied the scarcity mentality that unfortunately characterizes so many predominately white institutions in their relationships to arts organizations of color. We have led important change with partner philanthropies that will benefit the field far beyond our five member theatres. We are proud to stand shoulder to shoulder with other communities of color in the fight for racial justice in America.
As Susan Feder, our program officer at The Mellon Foundation was preparing to take our application before the trustees, I told her that if the grant were to be approved it would be monumental. She said, "here's to twenty-first century monuments."
Indeed.
Together let's build something we can be proud of for generations to come. While this is a powerful start for Penumbra, we are far from fully resourcing the Center for Racial Healing. There is a critical role for anyone looking to invest in a more equitable future at Penumbra. Now is the time.
Can you see it? I can.
Dream and build with us.
With abiding love (and brimming hope!),
Sarah
ARTIST SPOTLIGHT: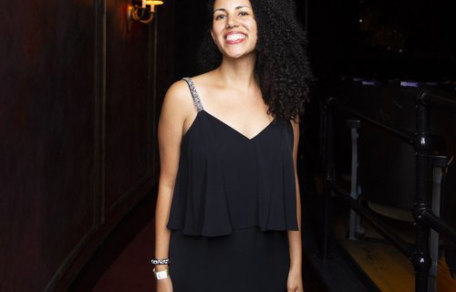 Quote
"I'm super-excited about Penumbra's next life cycle that will combine the theatre and a learning center–a place that allows for questioning, reflecting and understanding."
—Phyllis Goff, Supporter