American Cultural Treasures Initiative
PENUMBRA THEATRE TO RECEIVE $2.5 MILLION GRANT FROM FORD FOUNDATION AS PART OF
"AMERICAN CULTURAL TREASURES" INITIATIVE
Historic black theatre receives grant as it evolves into Penumbra Center for Racial Healing,
a dynamic performing arts, wellness, and learning center
Penumbra, a 44-year-old legacy black arts organization that recently announced it is evolving into its next life cycle as a center for racial healing, will receive a $2.5 million grant from the Ford Foundation as one of 20 national recipients across the country. The grant is part of the Ford Foundation's "American Cultural Treasures" initiative that launched September 24. In addition to the national recipients, a regional component of the program will provide multi-year grants and other support to additional cultural groups of color with exceptional regional and local significance in Minnesota and several other regions nationwide.
The grant, which will be delivered over the course of four years, offers $2.5 million in general operating support for the historic black theatre, once home to playwright August Wilson. In addition, the Ford Foundation is offering $100,000 for strategic planning support this fiscal year. Before the pandemic, Penumbra was operating with a $2.4 million annual budget. This is the largest grant that the nonprofit has received in its history.
It comes at an auspicious time for the organization as it evolves into the Penumbra Center for Racial Healing, building upon its more than four decades of nurturing black artists, promoting racial equity, and inspiring creative resiliency. The vision for the center has been in development since 2015 under the direction of Artistic Director Sarah Bellamy. Once complete, the center will provide new artistic offerings, robust equity training services, a wellness center, and expanded staff to support the fresh areas of focus.
The grant will support the center's next phase of development, including program design, business planning, and community engagement to shape and share in the collective vision. Over the next 12 months, Penumbra will work with artists to test, refine, and evaluate existing and emerging curricula. Concurrently, an iterative business development process will focus on infrastructural growth, earned income strategies, and phased implementation.
"I applaud the Ford Foundation, President Darren Walker, and the trustees in taking this historic step to address the profound disparity in the arts ecology and to ensure that our legacy institutions survive to benefit future generations," Bellamy says. "I hope this bold and decisive action will empower more philanthropies to enact racial equity practices that begin to right our course. With support like this, artists across the country will be empowered to carry us through these trying times toward a more just and equitable future."
While this grant will enable the next phase of the center, Penumbra also secured permission from a local funder to issue $200,000 of its general operating support to member partners in the Twin Cities Theatres of Color Coalition (TCTOCC) – Pangea World Theatre, New Native Theatre, Theater Mu, and Teatro del Pueblo.
"While we are proud to be recognized for our storied history and bright future, we know that we need other arts organizations of color to thrive as well," Bellamy says. "This is an expression of our solidarity with other communities of color at this critically important time."
Founded in 1976 by award-winning director and scholar Lou Bellamy, Penumbra is Minnesota's only professional black theatre and is one of only three professional black theatres in the nation that offers a full season of performances. Says the founder, "After 44 years, it is profoundly moving to see Penumbra recognized in this way. I am so proud to see Penumbra's legacy be well resourced and to watch the company grow under the guidance of a next generation of leadership equipped to meet this moment with courage and confidence."
The celebrated institution has earned national accolades, producing nearly 200 plays, more than 30 premieres, and cultivated generations of artists of color now working across the nation. One of those artists, Penumbra company member and playwright Harrison David Rivers, says Penumbra's new direction has given him a sense of hope and purpose at a time of uncertainty and unrest.
"I feel empowered and energized—revived. And that, I think, is the center's aim—to serve as a place of healing and rejuvenation, as a site of memory and celebration, and as a catalyst for transformative change."
For more on the Penumbra Center for Racial Healing, please visit penumbratheatre.org/racialhealing. For more on the Ford Foundation grants, please visit here.
ABOUT PENUMBRA
Penumbra is recognized nationally and internationally for its artistically excellent and socially responsible art that illuminates the human condition through prisms of the black experience. Penumbra opens hearts, rehearses strategies for change, and dispels dehumanizing narratives of people of color.
CONTACT
Tiffany Johnson
P: 651.288.6795
E: tiffany.johnson@penumbratheatre.org
ARTIST SPOTLIGHT: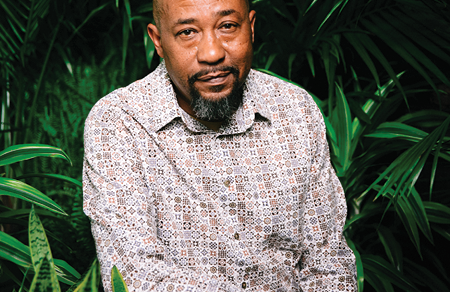 Quote
"SELF-CARE AND HEALING AND ATTENTION TO THE BODY AND SPIRITUAL DIMENSION — ALL OF THIS IS NOW PART OF RADICAL SOCIAL JUSTICE STRUGGLES."
—Angela Davis