Ashe Lab Artists
Ashe Lab Artistic Advisor: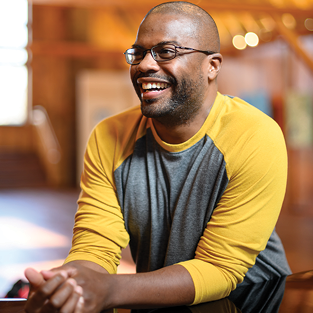 Harrison David Rivers
Harrison David Rivers is the winner of the 2018 Relentless Award for his play the bandaged place (New York Stage & Film). His produced plays include: When Last We Flew (GLAAD Media Award, NYFringe Excellence in Playwriting Award, NYFringe, Diversionary Theatre, TheatreLAB, Real Live Theatre), Sweet (AUDELCO nomination for Best Play, National Black Theatre), And She Would Stand Like This (20% Theatre Company, The Movement Theatre Company), Where Storms Are Born (Berkshire Theatre Award nomination for Best New Play, Edgerton Foundation New Play Award, Williamstown Theatre Festival), A Crack in the Sky (History Theatre), Five Points (MN Theatre Award for Exceptional New Work, Lavender Magazine citation for Outstanding New Playwriting, BroadwayWorld Minneapolis Award for Best New Work, Inclusion in MinnPost's year-end "Best" List, Theatre Latte Da) This Bitter Earth (MN Theatre Award for Exceptional New Work, Lavender Magazine citation for Outstanding New Playwriting, Joseph Jefferson Award Recommendation, New Conservatory Theatre Center, Penumbra, About Face) and To Let Go and Fall (Theatre Latte Da).
Ashe Lab Artists:

Orlando Hunter and Ricarrdo Valentine, Brother(hood) Dance!
Orlando Zane Hunter, Jr. is an international artist, who has performed in Trinidad and Tobago and Zimbabwe, Africa with Ananya Chatterjea. He has received a B.F.A. in dance from the University of Minnesota. Recently he choreographed and danced in "Redbone: A Biomythography" that debuted at the Nuyorican Café, Wild Project Theater and Duke University: Women's center. Orlando Hunter's solo, Mutiny, was selected in the 2015 Dancing While Black performance lab held this year in Trinidad and Tobago. He has presented his choreography at Thelma Hill and on Time Warner cable network through Germaul Barnes's project, Black Bones. Since his arrival to New York City, Orlando has performed works by Christal Brown, Edisa Weeks, Germaul Barnes, Andre Zachary/ Renegade Performance Group, Forces of Nature and Ni'Ja Whitson-Adebanjo/NWA project. In addition, he is the co-founder of Brother(hood) Dance and 2015/16 Dancing While Black Fellow.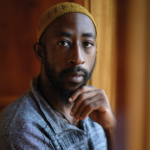 Ricarrdo Valentine uses art as a vehicle for activism. Ricarrdo's education includes Urban Bush Women: Summer Leadership Institute, Bates Dance Festival and Earl Mosely Institute of the Arts. He has presented his choreography at Bates Dance Festival, Brooklyn Museum, El Museo de Barro and LaGuardia Community College. Ricarrdo continues to collaborate and work with Christal Brown/INspirit, Edisa Weeks/Delirious Dance, Paloma McGregor, Dante Brown/Warehouse Dance, Malcolm Low/Formal Structure, Jill Sigman/Thinkdance, Ni'Ja Whitson-Adebanjo/NWA project, Andre Zachary/RPG, Emily Berry/B3W and Barak ade Soliel. He is the co-founder of Brother(hood) Dance! In addition, Ricarrdo is the 2015 Dance/USA DILT mentee and 2015/16 Dancing While Black Fellow.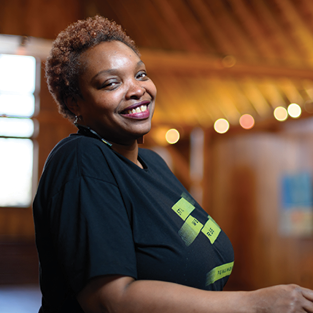 Queen Drea Reynolds
Queen Drea Voice-Loops N Effects creates conceptual soundscapes. By applying a poetic and often metaphorical language to her lyrics and compositions, she tries to approach a wide scale of subjects in a multi-layered way and likes to involve the audience in conversation as they accompany her on her musical journey. Her performances directly respond to the surrounding environment and uses everyday experiences from the artist as a starting point. Often these are framed instances that would go unnoticed in their original context. With a conceptual approach, her work references love, pain, the feeling of not being "enough as a form of resistance against the "Normalcy" box people want to put her in..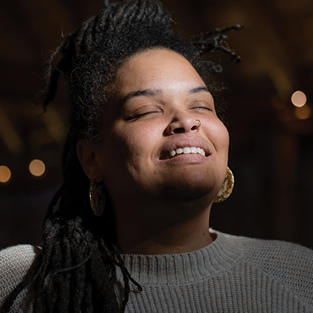 Erin Sharkey
Erin Sharkey is a writer and cultural producer based in Minneapolis. She is the co-founder, with Junauda Petrus, of an experimental arts production company called Free Black Dirt. Erin was a Bell Museum Artist-in-Residence, Loft Mentor Series mentee, VONA fellow, Jerome Travel and Study grantee, and Givens Foundation fellow. Her work as appeared in Brooklyn Quarterly, Paper Darts and Walker Sightlines and Primer Magazines and is editing A Darker Wilderness, a forthcoming anthology of Black nature writing for Milkweed Editions. In 2019, She was awarded the Minnesota State Arts Board Artist Initiative grant and MRAC's Next Step Fund, and this year she is teaching with Minnesota Prison Writers Workshop.
Penumbra Theatre's Ashe Lab is made possible by the generous support of the Andrew W. Mellon Foundation, the Jerome Foundation, the Headwaters Foundation for Justice, and the Pan African Community Endowment.
Photo Credit: Caroline Yang
More Information
BECOME A NEXT
GENERATION MEMBER!
Join our movement to create transformational change for individuals and communities! A gift in any amount supports vital preparatory work for our next lifecycle as a performing arts campus and center for racial healing. Your donation will go directly to supporting artists of color as we develop the holistic programming that Penumbra will offer.
Members will receive:
• Special access to virtual readings and workshops by artists
• Guided meditations and reflections to support healing
• Opportunities to participate in the planning process
• News about the Penumbra Center for Racial Healing
• More!
A donation in any amount helps to sustain our company and grow our impact in the community. Donate online or by calling 651.224.3180 today.
Quote
"I'm super-excited about Penumbra's next life cycle that will combine the theatre and a learning center–a place that allows for questioning, reflecting and understanding."
—Phyllis Goff, Supporter