Daniel Alexander Jones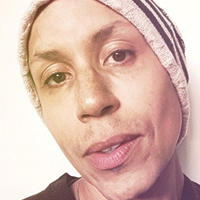 Daniel Alexander Jones is an award-winning performance artist, writer and director. His work onstage, on record, and in digital media as his alter-ego, Jomama Jones, include Black Light (Joe's Pub) Radiate (Soho Rep, and national tour), Night Flowers (JACK), the albums Six Ways Home, Radiate and Lone Star, and a series of annual online New Year's Messages. His performance pieces and plays include Blood:Shock:Boogie, Phoenix Fabrik, Bel Canto, Cab and Lena, and The Book of Daniel. Jones is currently developing Duat, a new evening-length theatre project with director Will Davis. Daniel directed world premiere productions of plays by Dr. E. Patrick Johnson, Erik Ehn, Shay Youngblood and Renita Martin, among others. Daniel was named a 2015 Doris Duke Artist; he received the Alpert Award in Theatre, and was a fellow at Occidental College and NYU/Hemispheric Institute. Daniel was an inaugural Creative Capital Artist, and the MAP Fund, the Jerome Foundation, and McKnight Foundation, among others, have supported his work. Daniel was a Resident Playwright with New Dramatists, a Core Member of the Playwrights' Center, and has lectured or taught at numerous colleges, universities, theatres and arts organizations nationally. He heads the Playwriting track at Fordham University, where he is an Associate Professor of Theatre. Daniel lives in NYC.
More Information
BECOME A NEXT
GENERATION MEMBER!
Join our movement to create transformational change for individuals and communities! A gift in any amount supports vital preparatory work for our next lifecycle as a performing arts campus and center for racial healing. Your donation will go directly to supporting artists of color as we develop the holistic programming that Penumbra will offer.
Members will receive:
• Special access to virtual readings and workshops by artists
• Guided meditations and reflections to support healing
• Opportunities to participate in the planning process
• News about the Penumbra Center for Racial Healing
• More!
A donation in any amount helps to sustain our company and grow our impact in the community. Donate online or by calling 651.224.3180 today.
Quote
"I'm super-excited about Penumbra's next life cycle that will combine the theatre and a learning center–a place that allows for questioning, reflecting and understanding."
—Phyllis Goff, Supporter