Dennis Spears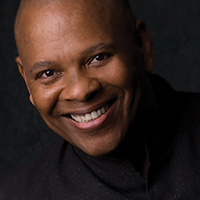 Dennis W. Spears is a longtime Penumbra Theatre company member and has performed roles at Penumbra, The Guthrie Theater, Illusion Theater, Syracuse Stage, Indiana Repertory Theater, Hartford Stage, Ten Thousand Things, Minneapolis Children's Theatre, Actor's Theater of Louisville, Chanhassen Dinner Theater and The Kennedy Center. For his portrayal of Nat Cole in I Wish You Love, he received the Ivey Award for Excellence in Acting. Mr. Spears has performed nationally and internationally as a featured vocalist with the vocal jazz ensemble Moore By Four, and serves as Artistic Director for Legends Music Series at the Capri Theater, where he has contributed greatly to the Capri being named Best Venue for Live Jazz in the Twin Cities. Dennis is a 2013 inductee into the Minnesota Music Hall of Fame!
More Information
SUPPORT THE ART YOU LOVE!
For over four decades Penumbra Theatre has been a beacon welcoming everyone in our community to open their hearts and minds to be nourished by the unique power of theatre. Stand with us to sustain the art you love and grow its impact.
$50 Can give a week of healthy meals to one activist artist-in-training.
$100 Can underwrite two tickets to a performance so that price is never a barrier to great art.
$250 Can provide access for one person to attend every single event this season.
$500 Can subsidize Summer Institute tuition costs for one teen
A donation in any amount helps to sustain our company and grow our impact in the community. Donate online or by calling 651.224.3180 today.
Quote
"Penumbra Theatre is a classical, historical and, cultural mecca that allows for a platform for Black people to work, create...to thrive as artists."
—PaviElle French, Emmy Award-Winning Artist