Let's Talk: Shifting the Narrative on Criminal Justice
ABOUT THE EVENT
Facilitated by Penumbra Equity Director Christine Smith.
When we think about criminality, the media ensures that we can't help but formulate pictures in our heads of who is a criminal and what is a crime. The impact of this unconscious bias is visible in our state's racial disparities in arrests, convictions, and incarceration — some of the country's worst. Is it possible to disrupt the perspectives that lead to unfair treatment? Join us for a riveting conversation with leaders focused on reform, abolition, and repair about the impact of bias and how we can all help shift the narrative around crime and incarceration to create a more equitable justice system.
This event begins at 6:00pm with refreshments and light bites, followed by a 90-minute presentation and discussion.
Single Tickets
Purchase online or call 651.224.3180 Monday through Friday, from 10 to 4:30pm.
PANELISTS

Christine Smith (Facilitator), Penumbra Equity Director: Christine Smith has led organizational equity strategies for over a decade. She is a co-convener of Mill City Kids, an initiative that aims to dismantle the impacts of systemic disparities experienced by African American and Indigenous families. She worked for the Minnesota Department of Human Services as a policy consultant and tribal liaison for the Minnesota Family Investment Program. She worked at the Minnesota Department of Health as the Health Equity and Tribal Grants Supervisor for the Office of Statewide Health Improvement Initiatives, where she led a team to develop competencies to increase diversity and inclusion in a trauma-informed way. Most recently, she worked as the Senior Program Director at People Serving People where she led the education, family services, systems change, and community engagement teams. She is an expert in the impacts of historical trauma and domestic violence and is a certified Adverse Childhood Experiences trainer. She is trained in multiple facilitation modalities and is an experienced public speaker. She holds a Bachelor of Arts degree in Organizational Communication and a Master of Arts degree in Family Life Education. She is currently finishing coursework for a Master of Arts in Holistic Health Science.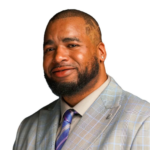 Prince Corbett, Heath Equity Administrator, Ramsey County: Prince Corbett serves as in the role of Racial and Health Equity Administrator at Ramsey County, MN where he works to change public policies and systems that will help abolish racial disparities. He is a 2022 Bush Fellow and was in the 2022 Harvard Kennedy School of Business Young American Leaders Program co-hort He is a native of Dayton, OH currently residing in St. Paul, MN. During the COVID-19 pandemic Prince co-lead Ramsey County's Racial Equity and Community Engagement Response Team that developed racial equity strategies and solutions focused on reducing racial disparities caused by the COVID-19 pandemic. He is a racial equity and workforce development professional with over 13 years' experience in the non-profit and public sectors where he primarily worked on implementation of racial equity workforce development programs. He holds a Master of Public Administration from Metropolitan State University and completed the Equity Works Leadership Institute through the Future Services Institute at the U of MN Humphrey School of Public Affairs. Prince is a formerly homeless youth, foster care survivor, and a survivor of incarceration who is dedicated to abolishing racial disparities. He has volunteered with organizations such as the Minnesota Second Chance Coalition, Alternatives to Violence Project, Council on Crime and Justice, and the Minneapolis NAACP's Criminal Justice Reform Committee. Currently Prince is a board member on the Minnesota Board of Public Defense.
At the age of 20 Prince was charged with three aggravated robberies, however he maintains his innocence of two of the charges. He was wrongfully found guilty in a jury trial and received a 74-month prison sentence and spent 3 ½ years incarcerated. While incarcerated Prince was a GED tutor and earned two accredited vocational certificates through a program that offered college vocational training to incarcerated individuals. Rather than being angry at the criminal justice system, Prince channeled this energy for his motivation to making systemic policy change for currently and formerly incarcerated individuals. Prince now focuses on abolishing racial disparities through community organizing that focuses on ending the racial income and wealth gap through public policy change.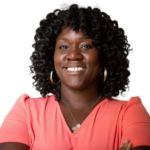 Nadine Graves, Deputy Director of Community Legal Services at the Legal Rights Center: Nadine Graves is the Deputy Director of Community Legal Services at the Legal Rights Center, where she oversees the criminal defense unit. Nadine has a long history of working with, advocating for, and empowering marginalized people. Nadine is a former public defender and has represented parents in child protection matters and tenants in housing court. Outside of the courtroom, Nadine previously served as the board chair of a non-profit, We Are Criminals, an organization dedicated to challenging society's perceptions of what it means to be a "criminal."
Nadine embodies the importance of perspective-changing through storytelling. She has testified at Minnesota's Second Chance Day on the Hill in support of Ban the Box, expungement reform, and voters' rights restoration and is currently the host and producer of The Waiting Room with Nadine Graves Podcast, where she provides a mic for the unheard, exposing the invisible impact upon families affected by the criminal legal system. Nadine is a Minnesota native (daughter of Liberian immigrants), and a graduate of an HBCU, Delaware State University, and Mitchell Hamline School of Law where she focused on public interest areas of law."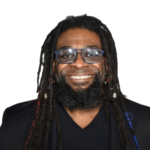 Dr. Shawn Moore, Professor at Bethel University: Dr. Shawn Moore has over 20 years of professional experience in the field of  Implicit Social Cognition (Implicit Bias), Cross-Cultural engagement, Cultural Competency, and Racial Reconciliation. This has included; being the first Community Liaison in the Moundsview School District, a community and cultural coordinator for North St. Paul School District, Coordinating the Scholars Program at Century College, Director of Community Engagement and Service Learning at Bethel University. He is currently a Professor at Bethel University and Pastor at Living Spirit UMC. He is a trainer for LETAC (Law Enforcement Training Academy & Consulting), and a P.O.S.T (Peace Officer Standards and Training) certified Trainer for the State of Minnesota. Throughout all of his work experience he has been tasked with the responsibility to care for those who are in need, teach and conduct cross-cultural, conflict resolution, and community engagement workshops and trainings.
He has a Doctorate of Ministry with a focus in Public Theology. His particular field of study is Racial Reconciliation and how coaching and workshops enhance endeavors within communities. He wants to bring his education, hands on experience, creativity, and insight gained through these various experiences to your organization.
DATES AND TICKETS
Monday, February 27, 2023 // 7:00PM
Quote
"PENUMBRA'S CONNECTIONS ARE SO POWERFUL. WE'RE CONTINUING TO STRENGTHEN THESE TIES AS A FORCE FOR COLLECTIVE HEALING AND PROFOUND SOCIAL GOOD."
—Khamara Pettus,
Development Director