Faye Price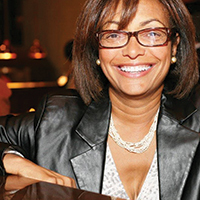 Faye M. Price is the co-Artistic Producing Director and co-Center Director of Pillsbury House + Theatre in Minneapolis, where she has helped to lead the transformation of Pillsbury House, a 135 year old community service center, and Pillsbury House Theatre, a 22 year old professional theatre, into a one-of-a-kind, arts-integrated social service center providing more than 24,000 people a year with affordable day care, afterschool programming, and more while also offering high-quality arts experiences that strengthen community cohesion and social capital and inspire connections and change. Faye is the current chair of Minnesota Citizens for the Arts board of directors. An alumnus of the Salzburg Seminar, Faye has also served on numerous panels including: the National Endowment for the Arts, Doris Duke Foundation, Jerome Foundation, the Minnesota State Arts Board, McKnight Fellowships for Theater Artists and 3Arts in Chicago. Faye is the recipient of the 2006 Catharine Lealtad Service to Society Award from Macalester College and the 2012 Sally Irvine Ordway Award for Initiative from the Ordway Center for the Performing Arts. Awarded the August Wilson Fellowship to study Dramaturgy and Literary Criticism, Faye received her graduate degree from the University of Minnesota.
More Information
SUPPORT THE ART YOU LOVE!
For over four decades Penumbra Theatre has been a beacon welcoming everyone in our community to open their hearts and minds to be nourished by the unique power of theatre. Stand with us to sustain the art you love and grow its impact.
$50 Can give a week of healthy meals to one activist artist-in-training.
$100 Can underwrite two tickets to a performance so that price is never a barrier to great art.
$250 Can provide access for one person to attend every single event this season.
$500 Can subsidize Summer Institute tuition costs for one teen
A donation in any amount helps to sustain our company and grow our impact in the community. Donate online or by calling 651.224.3180 today.
Quote
"Penumbra Theatre is a classical, historical and, cultural mecca that allows for a platform for Black people to work, create...to thrive as artists."
—PaviElle French, Emmy Award-Winning Artist