Faye Price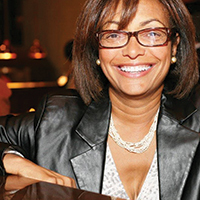 Faye M. Price is the co-Artistic Producing Director and co-Center Director of Pillsbury House + Theatre in Minneapolis, where she has helped to lead the transformation of Pillsbury House, a 135 year old community service center, and Pillsbury House Theatre, a 22 year old professional theatre, into a one-of-a-kind, arts-integrated social service center providing more than 24,000 people a year with affordable day care, afterschool programming, and more while also offering high-quality arts experiences that strengthen community cohesion and social capital and inspire connections and change. Faye is the current chair of Minnesota Citizens for the Arts board of directors. An alumnus of the Salzburg Seminar, Faye has also served on numerous panels including: the National Endowment for the Arts, Doris Duke Foundation, Jerome Foundation, the Minnesota State Arts Board, McKnight Fellowships for Theater Artists and 3Arts in Chicago. Faye is the recipient of the 2006 Catharine Lealtad Service to Society Award from Macalester College and the 2012 Sally Irvine Ordway Award for Initiative from the Ordway Center for the Performing Arts. Awarded the August Wilson Fellowship to study Dramaturgy and Literary Criticism, Faye received her graduate degree from the University of Minnesota.
More Information
BECOME A NEXT
GENERATION MEMBER!
Join our movement to create transformational change for individuals and communities! A gift in any amount supports vital preparatory work for our next lifecycle as a performing arts campus and center for racial healing. Your donation will go directly to supporting artists of color as we develop the holistic programming that Penumbra will offer.
Members will receive:
• Special access to virtual readings and workshops by artists
• Guided meditations and reflections to support healing
• Opportunities to participate in the planning process
• News about the Penumbra Center for Racial Healing
• More!
A donation in any amount helps to sustain our company and grow our impact in the community. Donate online or by calling 651.224.3180 today.
Quote
"I'm super-excited about Penumbra's next life cycle that will combine the theatre and a learning center–a place that allows for questioning, reflecting and understanding."
—Phyllis Goff, Supporter