H. Adam Harris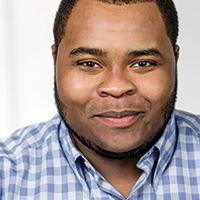 H. Adam Harris is the Associate Director of Programming at Penumbra and a Penumbra Company member (The Dutchman, The Owl Answers, Ballad of Emmett Till, The Amen). He is a core artist with Ten Thousand Things (Unsinkable Molly Brown, Dirt Stick, The Seven). H. Adam has also performed at the Children's Theatre Company, the Guthrie Theatre, History Theatre, Pillsbury House Theater, and more. He is a resident teaching artist with the Children's Theatre Company and The Guthrie Theater. H. Adam is a faculty member of the St. Paul Conservatory for Performing Artists and has led master classes for many youth organizations including Project Success, the Wilder Foundation, the Minnesota Thespian Society, College Possible, the University of Minnesota's Urban 4-H program. He received a B.F.A from the University of Minnesota/Guthrie Theater Actor Training Program along with a minor in African American Studies.
More Information
BECOME A NEXT
GENERATION MEMBER!
Join our movement to create transformational change for individuals and communities! A gift in any amount supports vital preparatory work for our next lifecycle as a performing arts campus and center for racial healing. Your donation will go directly to supporting artists of color as we develop the holistic programming that Penumbra will offer.
Members will receive:
• Special access to virtual readings and workshops by artists
• Guided meditations and reflections to support healing
• Opportunities to participate in the planning process
• News about the Penumbra Center for Racial Healing
• More!
A donation in any amount helps to sustain our company and grow our impact in the community. Donate online or by calling 651.224.3180 today.
Quote
"How are we going to take the songs of all of this wonderful flock here and weave them together to create this great orchestra that will sing the song of healing? "
—Seitu Ken Jones