H. Adam Harris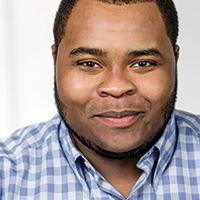 H. Adam Harris is the Associate Director of Programming at Penumbra and a Penumbra Company member (The Dutchman, The Owl Answers, Ballad of Emmett Till, The Amen). He is a core artist with Ten Thousand Things (Unsinkable Molly Brown, Dirt Stick, The Seven). H. Adam has also performed at the Children's Theatre Company, the Guthrie Theatre, History Theatre, Pillsbury House Theater, and more. He is a resident teaching artist with the Children's Theatre Company and The Guthrie Theater. H. Adam is a faculty member of the St. Paul Conservatory for Performing Artists and has led master classes for many youth organizations including Project Success, the Wilder Foundation, the Minnesota Thespian Society, College Possible, the University of Minnesota's Urban 4-H program. He received a B.F.A from the University of Minnesota/Guthrie Theater Actor Training Program along with a minor in African American Studies.
More Information
SUPPORT THE ART YOU LOVE!
For over four decades Penumbra Theatre has been a beacon welcoming everyone in our community to open their hearts and minds to be nourished by the unique power of theatre. Stand with us to sustain the art you love and grow its impact.
$50 Can give a week of healthy meals to one activist artist-in-training.
$100 Can underwrite two tickets to a performance so that price is never a barrier to great art.
$250 Can provide access for one person to attend every single event this season.
$500 Can subsidize Summer Institute tuition costs for one teen
A donation in any amount helps to sustain our company and grow our impact in the community. Donate online or by calling 651.224.3180 today.
Quote
"Summer Institute gave me a purpose as a woman and person of color to share my personal experience without oppression and judgement."
—Rahila Coats, Summer Institute Alumna