History
The Penumbra Theatre was founded in 1976 by Artistic Director Lou Bellamy to create a forum for African-American voices in the Twin Cities' well-respected theater community. Through its commitment to provide realistic, inspirational works that redefine the consciousness of its audience, the Penumbra quickly garnered praise and a loyal following.
Over the years that followed, Penumbra Theatre Company lived up to its mission of presenting artistically excellent productions that depict emotional, relevant, and valuable experiences from an African American perspective. It has achieved national recognition for its quality productions and leadership role in launching the career of many respected playwrights, including two-time Pulitzer Prize winner August Wilson.
As Penumbra has grown, so has our impact on the community. In addition to performing before 40,000 people of all backgrounds every year, our Educational and Outreach activities impact more than 5,000 students each year. We employ more actors, choreographers, dancers, directors, and administrators of color than all other theatres in Minnesota combined.
Penumbra remains an active member of the Selby/Dale neighborhood and surrounding community. By maintaining a strong physical link to our environment, Penumbra fulfills one of its main objectives: to serve as an educator, employer and inspirational model for the community whose stories we tell.
Our role was recognized in January of 2000, when Danny Glover presented us with the Jujamcyn Award in New York City. As a recipient of the national award for the development of artistic talent, we join an exclusive list of top regional theaters that includes the Yale Repertory Theater and The Mark Taper Forum. Penumbra has also been named "Best Theatre for Drama" by City Pages and "One of Ten Companies that Make a Difference" by Stage Directions Magazine.
Today, Penumbra Theatre Company is Minnesota's only professional African American theatre, and is one of only three professional African American theaters in the nation to offer a full season of performances. Under Bellamy's quarter century of continuous leadership, Penumbra has stayed on the cutting edge of the national theatre scene and continues to present groundbreaking productions.
ARTIST SPOTLIGHT: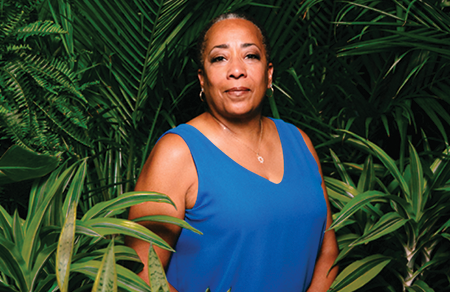 Quote
"HOW ARE WE GOING TO TAKE THE SONGS OF ALL OF THIS WONDERFUL FLOCK HERE AND WEAVE THEM TOGETHER TO CREATE THIS GREAT ORCHESTRA THAT WILL SING THE SONG OF HEALING?"
—Seitu Ken Jones,
Company Member