James T. Alfred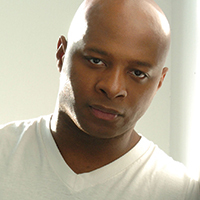 James T. Alfred studied acting at the Institute for Advanced Theatre Training at Harvard University and the Moscow Art Theatre School in Russia. He holds an M.F.A in Acting from the Moscow Art Theatre School and a B.A. in International Business from Cardinal Stritch (college) University. He is an accomplished, award-winning actor with fifteen plus years of performance experience. Mr. Alfred has worked with internationally recognized directors at theaters in both the U.S and abroad, including the illustrious Penumbra Theatre. His stage credits include Jitney, Fences, Ma Rainey's Black Bottom, The Glass Menagerie, All's Well That End's Well among others. James has taught acting, and has been invited to speak at major colleges and Universities including the University of Minnesota.
More Information
SUPPORT THE ART YOU LOVE!
For over four decades Penumbra Theatre has been a beacon welcoming everyone in our community to open their hearts and minds to be nourished by the unique power of theatre. Stand with us to sustain the art you love and grow its impact.
$50 Can give a week of healthy meals to one activist artist-in-training.
$100 Can underwrite two tickets to a performance so that price is never a barrier to great art.
$250 Can provide access for one person to attend every single event this season.
$500 Can subsidize Summer Institute tuition costs for one teen
A donation in any amount helps to sustain our company and grow our impact in the community. Donate online or by calling 651.224.3180 today.
Quote
"Penumbra Theatre is a classical, historical and, cultural mecca that allows for a platform for Black people to work, create...to thrive as artists."
—PaviElle French, Emmy Award-Winning Artist