Jennifer Whitlock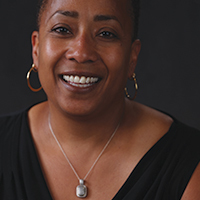 Jennifer has been a Company Member of Penumbra Theatre since 1984. She has performed in numerous of musical productions, such "Black Nativity", "Mahalia", "Ain't Misbehavin", "Bubblin' Brown Sugar", "Selma", "Tambourines To Glory", "A Soldiers Play" and "Purlie".
Whitlock is former 36 year member of Grammy Award winning Sounds of Blackness. She has performed in and directed multiple productions of the "Night before Christmas a Musical Fantasy". In addition to being an ensemble member, she has also serviced in the capacity of Officer and Road Manager, coordinating and overseeing the logistics of the group as they traveled nationally and internationally.
More Information
SUPPORT THE ART YOU LOVE!
For over four decades Penumbra Theatre has been a beacon welcoming everyone in our community to open their hearts and minds to be nourished by the unique power of theatre. Stand with us to sustain the art you love and grow its impact.
$50 Can give a week of healthy meals to one activist artist-in-training.
$100 Can underwrite two tickets to a performance so that price is never a barrier to great art.
$250 Can provide access for one person to attend every single event this season.
$500 Can subsidize Summer Institute tuition costs for one teen
A donation in any amount helps to sustain our company and grow our impact in the community. Donate online or by calling 651.224.3180 today.
Quote
"Summer Institute gave me a purpose as a woman and person of color to share my personal experience without oppression and judgement."
—Rahila Coats, Summer Institute Alumna