Jennifer Whitlock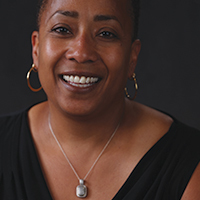 Jennifer has been a Company Member of Penumbra Theatre since 1984. She has performed in numerous of musical productions, such "Black Nativity", "Mahalia", "Ain't Misbehavin", "Bubblin' Brown Sugar", "Selma", "Tambourines To Glory", "A Soldiers Play" and "Purlie".
Whitlock is former 36 year member of Grammy Award winning Sounds of Blackness. She has performed in and directed multiple productions of the "Night before Christmas a Musical Fantasy". In addition to being an ensemble member, she has also serviced in the capacity of Officer and Road Manager, coordinating and overseeing the logistics of the group as they traveled nationally and internationally.
More Information
BECOME A NEXT
GENERATION MEMBER!
Join our movement to create transformational change for individuals and communities! A gift in any amount supports vital preparatory work for our next lifecycle as a performing arts campus and center for racial healing. Your donation will go directly to supporting artists of color as we develop the holistic programming that Penumbra will offer.
Members will receive:
• Special access to virtual readings and workshops by artists
• Guided meditations and reflections to support healing
• Opportunities to participate in the planning process
• News about the Penumbra Center for Racial Healing
• More!
A donation in any amount helps to sustain our company and grow our impact in the community. Donate online or by calling 651.224.3180 today.
Quote
"As an institution that has been serving our community for more than four decades, the Penumbra Center for Racial Healing will be a beacon for all of us as we move through these uncertain times towards a brighter future for our children and grandchildren."
—Mayor Carter