Jobs
Penumbra is currently looking for the following positions:
MARKETING DIRECTOR
As we evolve into the Penumbra Center for Racial Healing, we are seeking an institutionally minded marketing and communications leader who is dedicated to the health and vitality of Black legacy organizations, and whose ethics express a clear commitment to racial healing. Currently, Penumbra has a $3.5 million operating budget. The organization is poised to significantly grow its earned revenue in the next 5 years, including ticket income, paid services, class tuition, and merchandise and concessions sales. The Marketing Director (MD) will play a key role in actively collaborating with the executive team to realize this growth.
Under the guidance and direction of our executive team (President and COO), and in collaboration with our marketing team (Marketing Manager) and staff, they lead the management, coordination, and implementation of Penumbra's marketing efforts to build awareness, grow engagement, and meet annual budgetary targets, with their sight to long term growth and sustainability. This role will serve as the lead on all marketing and communications initiatives, including brand strategy, creative direction, content development, audience engagement, program promotions, and public relations. They will deepen and broaden relationships with audiences, partners, and media, growing engagement and sales to drive impact toward racial healing for communities here in Minnesota and beyond.
The MD will be an inspirational storyteller and strategist who can bring our racial healing work to life through visuals, narrative, and immersive experiences that advance collective efforts, build constituency, and activate the power of racial healing. They will be a strategic thinker and proactive problem solver who uses data to drive progress towards goals. They will develop custom, multi-channel marketing strategies that build genuine connection and community.
This position is ideal for an experienced marketer who loves to innovate and iterate, thrives on collaboration, leads by example, supports others generously, and seeks ongoing opportunities to learn and grow. The MD is a full-time exempt position that reports to the COO.
Click here to view the complete job description. Email amy.thomas@penumbratheatre.org to submit a letter of interest and your resume. Applications will be reviewed on a rolling basis.
ARTIST SPOTLIGHT: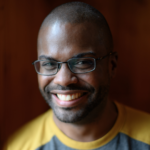 Quote
"As an institution that has been serving our community for more than four decades, the Penumbra Center for Racial Healing will be a beacon for all of us as we move through these uncertain times towards a brighter future for our children and grandchildren."
—Mayor Carter