Lou Bellamy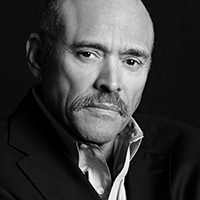 Lou Bellamy is the founder and Co-Artistic Director of Penumbra Theatre Company in Saint Paul, Minnesota. During his thirty-nine year tenure, Penumbra has evolved into one of America's premier theaters dedicated to dramatic exploration of the African American experience. Under his leadership, Penumbra has grown to be the largest theater of its kind in America and has produced 39 world premieres, including August Wilson's first professional production. Penumbra is proud to have produced more of Mr. Wilson's plays than any other theater in the world. Mr. Bellamy is an OBIE Award-winning director, an accomplished actor, and for 38 years was appointed as Associate Professor at the University of Minnesota in the Department of Theatre Arts and Dance. Directing credits include plays at Arizona Theatre Company, Denver Center for the Performing Arts, Penumbra Theatre, Signature Theatre, Oregon Shakespeare Festival, The Cleveland Play House, Indiana Repertory Theatre, The Guthrie Theater, The Kennedy Center, and Hartford Stage Company.
More Information
SUPPORT THE ART YOU LOVE!
For over four decades Penumbra Theatre has been a beacon welcoming everyone in our community to open their hearts and minds to be nourished by the unique power of theatre. Stand with us to sustain the art you love and grow its impact.
$50 Can give a week of healthy meals to one activist artist-in-training.
$100 Can underwrite two tickets to a performance so that price is never a barrier to great art.
$250 Can provide access for one person to attend every single event this season.
$500 Can subsidize Summer Institute tuition costs for one teen
A donation in any amount helps to sustain our company and grow our impact in the community. Donate online or by calling 651.224.3180 today.
Quote
"Summer Institute gave me a purpose as a woman and person of color to share my personal experience without oppression and judgement."
—Rahila Coats, Summer Institute Alumna