Mary Winchell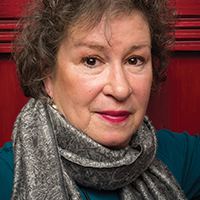 Mary Winchell is a Penumbra Company member. Select Penumbra credits include The Amen Corner (Guthrie Theater), I Wish You Love (Penumbra, The Kennedy Center, Hartford Stage), Black Pearl Sings!, Radio Golf, Gem of the Ocean, The Piano Lesson, Get Ready, Seven Guitars, Jitney and Two Trains Running. Other stage management credits include Park Square, Orpheum Theatre, State Theatre, Pantages Theatre, Children's Theatre Company, Jungle Theater and the Coconut Grove Playhouse. She served as production stage manager for Macy's Glamorama, Dorothy Hamill's Nutcracker on Ice, Aveda's 20th Anniversary Celebration at Radio City Music Hall, and Super Bowl XXVI Winter Magic.
More Information
SUPPORT THE ART YOU LOVE!
For over four decades Penumbra Theatre has been a beacon welcoming everyone in our community to open their hearts and minds to be nourished by the unique power of theatre. Stand with us to sustain the art you love and grow its impact.
$50 Can give a week of healthy meals to one activist artist-in-training.
$100 Can underwrite two tickets to a performance so that price is never a barrier to great art.
$250 Can provide access for one person to attend every single event this season.
$500 Can subsidize Summer Institute tuition costs for one teen
A donation in any amount helps to sustain our company and grow our impact in the community. Donate online or by calling 651.224.3180 today.
Quote
"Summer Institute gave me a purpose as a woman and person of color to share my personal experience without oppression and judgement."
—Rahila Coats, Summer Institute Alumna