Mary Winchell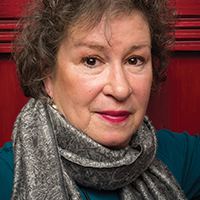 Mary Winchell is a Penumbra Company member. Select Penumbra credits include The Amen Corner (Guthrie Theater), I Wish You Love (Penumbra, The Kennedy Center, Hartford Stage), Black Pearl Sings!, Radio Golf, Gem of the Ocean, The Piano Lesson, Get Ready, Seven Guitars, Jitney and Two Trains Running. Other stage management credits include Park Square, Orpheum Theatre, State Theatre, Pantages Theatre, Children's Theatre Company, Jungle Theater and the Coconut Grove Playhouse. She served as production stage manager for Macy's Glamorama, Dorothy Hamill's Nutcracker on Ice, Aveda's 20th Anniversary Celebration at Radio City Music Hall, and Super Bowl XXVI Winter Magic.
More Information
BECOME A NEXT
GENERATION MEMBER!
Join our movement to create transformational change for individuals and communities! A gift in any amount supports vital preparatory work for our next lifecycle as a performing arts campus and center for racial healing. Your donation will go directly to supporting artists of color as we develop the holistic programming that Penumbra will offer.
Members will receive:
• Special access to virtual readings and workshops by artists
• Guided meditations and reflections to support healing
• Opportunities to participate in the planning process
• News about the Penumbra Center for Racial Healing
• More!
A donation in any amount helps to sustain our company and grow our impact in the community. Donate online or by calling 651.224.3180 today.
Quote
"I'm super-excited about Penumbra's next life cycle that will combine the theatre and a learning center–a place that allows for questioning, reflecting and understanding."
—Phyllis Goff, Supporter