Privacy Policy
PRIVACY POLICY
Penumbra is committed to protecting your privacy. We do not collect your personal information, such as your name, mailing address, or email address, unless you knowingly provide it to us. We do not publish, sell, trade, rent, or share names (unless released for publication), email or mail addresses, or telephone numbers of our patrons or donors.
This privacy policy governs the way we collect and use information offline, and on our website and any subdomains, including mobile devices and downloadable mobile applications ("Websites"). A link to this policy is included in the footer of the Websites. Your use of the Websites or provision of personal information to Penumbra as described below indicates your consent to the data practices described in this privacy policy.
Information Gathered
We collect certain information to help us operate and provide the Websites to you. We collect this "Technical Information" when you use the Websites, including:
Information about the device(s) you use to access the Websites, such as MAC address, IP address, browser type and version, time zone setting, browser plug-in types and versions, operating system and platform, device type, and device identifiers;
Information about your visits to websites we provide, including the full URL clickstream to, through and from these websites (including date and time);
Information we need and use to facilitate your use of the Websites (including to provide access to third party websites and services), such as URL requests, destination IP addresses, or device configuration details;
Pages you viewed or searched for, page response times, download errors, length of visits to certain pages, page interaction information (such as scrolling, clicks, and mouse-overs), and methods used to browse away from the page.
Information You Provide to Us
If you send us an email, fill out a feedback form, call us, or choose to communicate with us in another way, we will collect that information in order to respond to your request, feedback, or question. We will use and share information you provide to us only as described in this Privacy Policy.
Aggregate or Anonymized Information
We may combine Technical Information or other aggregated or anonymous information about your use of the Websites with similar information we obtain from other users for use in an aggregate or anonymous manner.
Cookies
The Websites may use cookies and similar technologies to support the functionality of the Websites. This provides a better experience when you visit our websites and allows us to improve the Websites.
Hyperlinks to Third Party Sites
Our website contains a number of hyperlinks to the sites of third parties. These hyperlinks are provided as a service to our customers for informational purposes only. However, the privacy policies of these third party sites such as the types of information collected and the use of the collected information is unknown to and beyond our control.
How We Use Your Information
We may use any information we collect to:
Allow us to operate the Websites, including administration, internal operations, troubleshooting, data analysis, testing, research, statistical and survey purposes; manage your access to the Websites; send you information that allows you to use the Websites; comply with laws and regulations; maintain the security of the Websites.
In addition, we may use your information to:
Provide you with information about goods or services that may interest you; send you emails about updates, information, or alerts regarding the Websites.
Disclosure of Information
We will not sell or share personal information about you with third parties for the third party's own direct marketing purposes.
We may share information with our service providers and agents to the extent reasonably necessary to operate the Websites. These third parties use any information we share only to support us and our efforts to provide the Websites.
We may share any information with:
Service providers and sub-contractors to the extent reasonably necessary to enable us provide the Websites; a third party that may acquire us or a majority of our assets, if that third party obtains the rights to provide the Websites and subject to the provisions of this privacy policy; a third party with whom we must legally share information about you; you, upon your request; other third parties with your consent to do so.
We may share Technical Information, aggregate or anonymous data:
With analytics, search engine, or other service providers that help us improve the Websites; to advertisers and advertising networks to select and serve relevant advertisement.
In the event that we receive a request from a governmental entity to provide it with your information, we will take reasonable attempts to notify you of such request, to the extent possible.
Email Information
You may choose to provide Penumbra with personal information in an email message to one of the addresses provided on the Websites, or by completing one of the forms available through the Websites. In addition, you may choose to submit personal information over the Internet by joining Penumbra's email list. Penumbra retains this information and uses it only to respond to your specific request and provide you with the requested material. If you choose to be added to the Penumbra's email list, we will send you emails to provide highlights of upcoming exhibitions and programs. You may unsubscribe to the email list at any time by clicking on the 'unsubscribe from this list' link in the footer of any of our email newsletters.
Donor and Payment Information
We use personal information collected from donors and patrons for the purposes of processing payments, and communicating about Penumbra, as well as conducting Penumbra's fundraising and other operations. This information may include name, amount donated, address, telephone number, donor comments, email address, and any other personal information provided to us ("Donor Data"). For donations by check, Donor Data also includes the data visible on the check.
Donor Data may be used for these kinds of purposes:
Distributing receipts and thanking donors for donations; informing donors about upcoming fundraising and other events/activities of the museum; internal analysis, such as research and analytics; record keeping; reporting to applicable government agencies as required by law; surveys, metrics, and other analytical purposes; other purposes related to the fundraising operations.
As part of providing an online experience expected by our donors, we may store data collected as part of standard Web operations (such as user agent strings, IP addresses, referrer strings, and cookies). We may use this data for purposes described in this policy, including analytical needs and improved functionality of our website.
Anonymized donor information may be used for promotional and fundraising activities. Comments that are provided by donors may be publicly published and may be used in promotional materials. We may use available information to supplement the Donor Data to improve the information we use to drive our fundraising efforts. We may allow donors the option to have their name publicly associated with their donation unless otherwise requested.
Data Retention
We seek to retain donor-related information only as needed to fulfill the purposes described in this policy unless a longer retention period is required by law or regulations.
Security
We are committed to protecting personal information of donors from unauthorized access, alteration, disclosure, or destruction. Among other things, we undertake a range of security practices, including measures to help secure Web access to sensitive data, and undertake efforts to address security vulnerabilities for various tools and databases. We use industry-standard encryption technologies to prevent your personal and financial information from being seen as it travels over the Internet to our servers. We routinely evaluate our security, and the security of our third-party service providers, to monitor and upgrade security measures.
Children Under Thirteen Years of Age
Penumbra does not solicit personal information from children on the Websites and does not direct any marketing specifically for children.
Updates and Revision
Penumbra reserves the right to revise this privacy policy from time to time without notice by posting a revised privacy policy on the Websites. You should periodically check this page for any changes to the current policy. By continued use of the Websites, you agree to such amended policy.
Contact Us
If you have any questions or comments regarding this privacy policy, please contact: info@penumbratheatre.org
ARTIST SPOTLIGHT: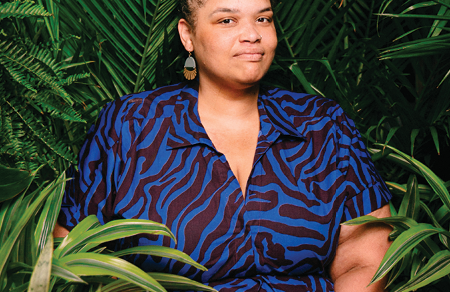 More Information
As part of the Penumbra family of supporters, your commitment to racial healing contributes to a more just and compassionate world. Go deeper into our work, make new connections, and add to community and individual wellness through art, joy, and education. We're so grateful to have you on the journey.
Quote
"PENUMBRA'S CONNECTIONS ARE SO POWERFUL. WE'RE CONTINUING TO STRENGTHEN THESE TIES AS A FORCE FOR COLLECTIVE HEALING AND PROFOUND SOCIAL GOOD."
—Khamara Pettus,
Development Director