Penumbra Center for Racial Healing
A New Life Cycle: Announcing the Penumbra Center for Racial Healing from Penumbra Theatre on Vimeo.
Our 44-year-old legacy black arts organization–once home to playwright August Wilson–is evolving into the Penumbra Center for Racial Healing. Based in the historically black neighborhood of Rondo in St. Paul, our mission has long been to nurture black artists, promote racial equity, and inspire creative resiliency. Building upon this history, the Penumbra Center for Racial Healing will provide new artistic offerings, robust equity training services, wellness programming, and expanded staff to support the fresh areas of focus.
The vision for the center has been in development since 2015, guided by Artistic Director Sarah Bellamy. An artist, scholar, and leading facilitator on issues of equity, diversity, and inclusion, she has tested programs that cultivate empathy and invite active participation with public conversations, screenings, community meals, and educational programming that engage patrons across Minnesota. Through her leadership, Penumbra brings vibrant communities together to shift the ground under some of the most deeply entrenched issues of equity and justice.
Founded in 1976 by award-winning director and scholar Lou Bellamy, Penumbra is Minnesota's only professional black theatre and is one of only three professional black theatres in the nation that offer a full season of performances. We've earned national accolades, producing nearly 200 plays, more than 30 premieres, and cultivated generations of artists of color now working across the nation, including Roger Guenveur Smith, MacArthur Genius Grant winner Dominique Morisseau, Obie winner Laurie Carlos, U.S. Poet Laureate Rita Dove, Pulitzer Prize winner August Wilson, Grammy winner Jamecia Bennett, "Empire" star James T. Alfred, and McKnight Foundation Distinguished Artist Seitu Ken Jones. This new direction will create space for us to better resource black artists and evolve our tools to drive racial equity, both in Minnesota and across the nation.
Visitors to the center will be welcomed to experience:
The arts: Our theatre season will include an annual repertory festival featuring interdisciplinary new work as well as mainstage shows, panel conversations, and educational programs throughout the year. Artists in residence will be resourced to develop new work and resiliency strategies in response to what is on our stages.
Racial equity: Year-round racial equity work led by artists will include lectures, workshops, seminars, and a leadership development institute for individuals and cohorts. The Penumbra Center for Racial Healing will offer visitors an opportunity to learn about and address the enduring disparities facing the black community, raising awareness and offering tangible strategies for solution.
Wellness: Our wellness program will feature a full fleet of holistic, culturally specific healing services including meditation, yoga, acupuncture, massage, and more informed by a curriculum especially designed to detoxify bodies from the stresses of living in a racially stratified society.
We have begun a multimillion-dollar initiative to fund program and business development and to engage our community in the realization of the dream. We will harness the innovation, agility, and intelligence long housed at the organization to ensure that it remains vital for generations to come.
ARTIST SPOTLIGHT: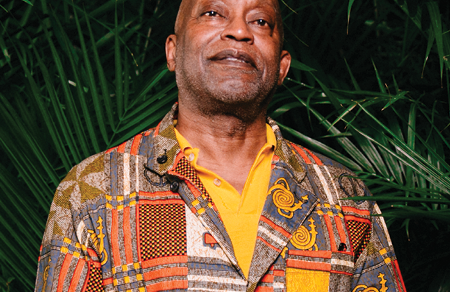 Quote
"PENUMBRA'S CONNECTIONS ARE SO POWERFUL. WE'RE CONTINUING TO STRENGTHEN THESE TIES AS A FORCE FOR COLLECTIVE HEALING AND PROFOUND SOCIAL GOOD."
—Khamara Pettus,
Development Director