Repertoire
The Penumbra has been producing theatre for over 40 years. The following is a comprehensive list of all our shows.
2022-2023
Weathering
Black Nativity
Sugar in Our Wounds
What I Learned in Paris
2021-2022
Black Nativity
Thurgood
Spittin' Seeds
2019-2020
Pipeline
Black Nativity
The White Card
2018-2019
The Brothers Paranormal
benevolence
Black Nativity
for colored girls who have considered suicide / when the rainbow is enuf
2017-2018
This Bitter Earth
Joy Rebel
Frederick Douglass NOW
Black Nativity
Wedding Band
2016-2017
GIRL Shakes Loose
Uncomfortable
Black Light
Black Nativity
Jitney
2015-2016
Sunset Baby
An Evening of One Acts: Dutchman and The Owl Answers
Black Nativity
Rodney King
2014-2015
By the Way, Meet Vera Stark
Detroit '67
Black Nativity
The Peculiar Patriot
On the Road to Timbuktu
2013-2014
The Mountaintop
The Ballad of Emmett Till
Black Nativity
Jamaica, Farewell
A Brown Tale
2012-2013
SPUNK
2011-2012
I Wish You Love
Two Trains Running
The Amen Corner
2010-2011
Sleep Deprevation Chamber
Black Nativity: Now's the Time *
Ma Rainey's Black Bottom
I Wish You Love*
2009-2010
Radio Golf
Black Nativity: A Season For Change *
Black Pearl Sings!
Two Old Black Guys Just Sitting Around Talking*
2008-2009
Fences
Black Nativity – Hear Again the Christmas Story!*
The Whipping Man*
A Raisin in the Sun
2007-2008
REDSHIRTS*
Black Nativity: Twenty Years of Holiday Cheer!*
The Piano Lesson
Gem of the Ocean
2006-2007
Ain't Misbehavin'
Black Nativity – A Homecoming*
Blue
Get Ready
2005-2006
Grandchildren of the Buffalo Soldiers*
Reflections of Black Nativity*
Sex Diary of an Infidel
Zooman and the Sign
2004-2005
Dinah Was
Black Nativity
Slippery When Wet
Stage Directions
Rollin' on the T.O.B.A.
2003-2004
Dinah Was
Diva Daughters DuPree
On the Open Road
2002-2003
Joe Turner's Come and Gone
Black Nativity
Two Trains Running
Seven Guitars
King Hedley II
2001-2002
A Love Song for Miss Lydia
Black Nativity
con flama
Someplace Soft to Fall
2000-2001
Black Eagles
Riffs
Louie & Ophelia
Black Nativity
The Trial of One Short-Sighted Black Woman vs. Mammy Louise & Safreeta Mae
1999-2000
Blues for an Alabama Sky
The Darker Face of the Earth
Jitney
Black Nativity
1998-1999
The Day the Bronx Died
Indigo Blues
One Acts: Geneva Catrell: Hospice
for colored girls who have considered suicide/when the rainbow is enuf
1997-1998
Jar the Floor
Canned Goods
Seven Guitars
Black Nativity
1996-1997
Ma Rainey's Black Bottom
A Raisin in the Sun
Fences
Black Nativity
1995-1996
Inside the Creole Mafia
Minneapolis Gospel Sound
Flyin' West
Black Nativity
Freefall
Portrait of the Artist as a Soul Man Dead*
Everlasting Arms*
1994-1995
Spunk
Black Nativity
Sally's Rape
Coming of the Hurricane
A Photograph: Lovers in Motion
Three Ways Home
Life Dances
1993-1994
Waiting in Vain*
Buffalo Hair*
Black Nativity
Talking Bones*
Jar the Floor
Two Trains Running
1992-1993
White Chocolate
The Last Minstrel Show*
Shakin' the Mess Outta Misery
Black Nativity
King of Coons*
Willie and Esther
The Piano Lesson
1991-1992
Pecong
Generations of the Dead in the Abyss of Coney Island Madness
Black Nativity
Shine!*
The Mojo and the Sayso
The Mighty Gents
Dutchman
1990-1991
Don't Bother Me — I Can't Cope
Playboy of the West Indies
Black Nativity
Pill Hill
Spell #7
Joe Turner's Come & Gone
1989-1990
Tamborines to Glory
Les Blancs
Black Nativity
Who Causes the Darkness?*
Unfinished Women Cry in No Man's Land While a Bird Dies in a Gilded Cage
Fences
1988-1989
Lost in the Stars
Brown Silk & Magenta Sunsets
Black Nativity
Major Changes*
Ceremonies in Dark Old Men
1987-1988
Po'
Tracers
Black Nativity
The African American Company Presents Richard III*
Every Night When the Sun Goes Down
1986-1987
Ain't Misbehavin'
Fool for Love
Poison Tree
Little Tommy Parker's Celebrated Colored Minstrel Show*
Ma Rainey's Black Bottom
1985-1986
Bubbling Brown Sugar
Prince and Cinderella*
A Soldier's Play
Selma
Jelly Belly Don't Mess with Nobody*
Split Second
1984-1985
Purlie
Harvest the Frost*
Jitney!*
Suspenders
Resurrection of Lady Lester
1983-1984
Don't Bother Me – I Can't Cope
Home
Short Eyes
1982-1983
Sunnyside A & M*
Ages American*
Zooman and the Sign
Raisin
Black Bart and the Sacred Hills*
1981-1982
Ain't Supposed to Die a Natural Death
Deadwood Dick: A Legend of the West
Soul Alley
1980-1981
Songhai
1979-1980
The Life & Theatre of Ira Aldridge*
1977-1978
Eden
The Taking of Miss Janie
Heartland Louisiana*
Escape; or, a Leap for Freedom
Odd Couple
The Offering
1976
The Hairy Falsetto
Little Nell
* World Premiere
ARTIST SPOTLIGHT: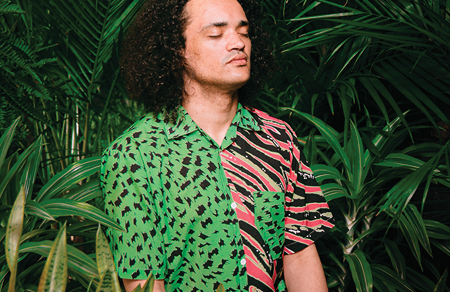 Quote
"I AM THRILLED TO EXPAND ON THE TREMENDOUS RESOURCES HERE TO DEVELOP A HEALING-CENTERED APPROACH TO OUR EQUITY WORK."
—Christine Smith,
Equity Director