Rex Isom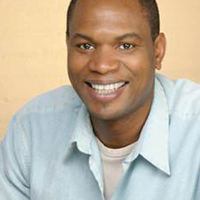 Rex has been a performing artist in the Twin Cities on and off for the last 20 years. One of his 1st professional roles was on the Penumbra stage as Asagai in 'Raisin in the Sun', 1996. Since that role Rex has been a part of several Penumbra productions on their stage and also behind the scenes. He has also performed improvisation comedy for most of his professional career, currently performing for the touring company of Stevie Ray's Comedy Improv Company. You can see Rex in a commercial here or there as well. He's been performing on-camera for the last 15 years and has been in many commercials, such as Best Buy, YMCA, and Thrivent Financial. Rex is very proud to be part of the Penumbra family!
More Information
BECOME A NEXT
GENERATION MEMBER!
Join our movement to create transformational change for individuals and communities! A gift in any amount supports vital preparatory work for our next lifecycle as a performing arts campus and center for racial healing. Your donation will go directly to supporting artists of color as we develop the holistic programming that Penumbra will offer.
Members will receive:
• Special access to virtual readings and workshops by artists
• Guided meditations and reflections to support healing
• Opportunities to participate in the planning process
• News about the Penumbra Center for Racial Healing
• More!
A donation in any amount helps to sustain our company and grow our impact in the community. Donate online or by calling 651.224.3180 today.
Quote
"I'm super-excited about Penumbra's next life cycle that will combine the theatre and a learning center–a place that allows for questioning, reflecting and understanding."
—Phyllis Goff, Supporter