Rex Isom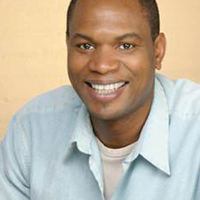 Rex has been a performing artist in the Twin Cities on and off for the last 20 years. One of his 1st professional roles was on the Penumbra stage as Asagai in 'Raisin in the Sun', 1996. Since that role Rex has been a part of several Penumbra productions on their stage and also behind the scenes. He has also performed improvisation comedy for most of his professional career, currently performing for the touring company of Stevie Ray's Comedy Improv Company. You can see Rex in a commercial here or there as well. He's been performing on-camera for the last 15 years and has been in many commercials, such as Best Buy, YMCA, and Thrivent Financial. Rex is very proud to be part of the Penumbra family!
More Information
SUPPORT THE ART YOU LOVE!
For over four decades Penumbra Theatre has been a beacon welcoming everyone in our community to open their hearts and minds to be nourished by the unique power of theatre. Stand with us to sustain the art you love and grow its impact.
$50 Can give a week of healthy meals to one activist artist-in-training.
$100 Can underwrite two tickets to a performance so that price is never a barrier to great art.
$250 Can provide access for one person to attend every single event this season.
$500 Can subsidize Summer Institute tuition costs for one teen
A donation in any amount helps to sustain our company and grow our impact in the community. Donate online or by calling 651.224.3180 today.
Quote
"Summer Institute gave me a purpose as a woman and person of color to share my personal experience without oppression and judgement."
—Rahila Coats, Summer Institute Alumna