Seitu Jones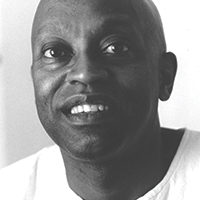 Seitu is a St. Paul visual artist. Working on his own or in collaboration with other artists or communities, Seitu Jones has created over 30 large-scale public artworks. As a scenic designer, he has created sets for Penumbra Theater (where he is a company member), Minneapolis Children's Theater, the Guthrie Theater, the Illusion Theater, Ananya Dance Theater, Pangea World Theater, and Park Square Theater. This is the second production he's created with Ananya Dance Theater.
He's been awarded a Minnesota State Arts Board Fellowship, a McKnight Visual Artist Fellowship, a Bush Artist Fellowship, a Bush Leadership Fellowship, a National Endowment for the Arts/Theater Communication Group (NEA/TCG) Designer Fellowship and a Loeb Fellowship at the Harvard Graduate School of Design.
Seitu was millennium artist-in-residence for 651 Arts, in Brooklyn, NY, was the first Artist-in-Residence for the City of Minneapolis and created artwork for three stations for the new Greenline Light Rail Transit system in the Twin Cities.
A 2013 Joyce Award, from Chicago's Joyce Foundation allowed Seitu to develop CREATE: The Community Meal, a dinner for 2000 people at a table ½ mile long that will focus on access to healthy food. In addition, he is working with members of his neighborhood to create a 5-acre farm in a new city park in Frogtown, St. Paul.
Seitu was recently awarded a $50,000 Forecast McKnight Public Art Grant to design and build a floating sculptural installation (boat) to act as a research vessel for the Mississippi River.
For 18 months Seitu was a Senior Fellow in Agricultural Systems, in the College of Food, Agriculture and Natural Science Resources. He is also on the faculty of Goddard College in Port Townsend, WA.
More Information
BECOME A NEXT
GENERATION MEMBER!
Join our movement to create transformational change for individuals and communities! A gift in any amount supports vital preparatory work for our next lifecycle as a performing arts campus and center for racial healing. Your donation will go directly to supporting artists of color as we develop the holistic programming that Penumbra will offer.
Members will receive:
• Special access to virtual readings and workshops by artists
• Guided meditations and reflections to support healing
• Opportunities to participate in the planning process
• News about the Penumbra Center for Racial Healing
• More!
A donation in any amount helps to sustain our company and grow our impact in the community. Donate online or by calling 651.224.3180 today.
Quote
"I'm super-excited about Penumbra's next life cycle that will combine the theatre and a learning center–a place that allows for questioning, reflecting and understanding."
—Phyllis Goff, Supporter