Tonia Jackson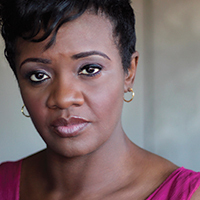 Tonia Jackson is a proud Penumbra Theatre Company member of over 15 years. Penumbra productions include: The Piano Lesson; Joe Turner's Come and Gone; Shakin' the Mess Outta Misery; Waiting in Vain; for colored girls who have considered suicide when the rainbow is enuf; Seven Guitars; Flyin' West and The Darker Face of the Earth. Regional credits include: Frankie and Johnny in the Claire de Lune at American Stage; Gem of the Ocean, Radio Golf, and The Nacirema Society Requests the Honor of Your Presence at a Celebration of Their First One Hundred Years at Alliance Theatre; Shakin' the Mess Outta Misery and And Her Hair Went with Her at Horizon Theatre; A Young Man From Atlanta at Theatrical Outfit, and Sty of the Blind Pig at True Colors Theatre. Other theatres include Guthrie Theatre, Lorraine Hansberry Theatre, Steppenwolf, Mixed Blood, The Children's Theater Company, Magic Theatre Company, Illusion Theatre and Pillsbury House. Film and television credits include "Zero Street," "A Chance of Snow," Tyler Perry's "Meet the Browns" and "House of Payne" Tonia studied at the Goodman School of Drama in Chicago, IL and has been nominated for three Suzi Bass Awards.
More Information
SUPPORT THE ART YOU LOVE!
For over four decades Penumbra Theatre has been a beacon welcoming everyone in our community to open their hearts and minds to be nourished by the unique power of theatre. Stand with us to sustain the art you love and grow its impact.
$50 Can give a week of healthy meals to one activist artist-in-training.
$100 Can underwrite two tickets to a performance so that price is never a barrier to great art.
$250 Can provide access for one person to attend every single event this season.
$500 Can subsidize Summer Institute tuition costs for one teen
A donation in any amount helps to sustain our company and grow our impact in the community. Donate online or by calling 651.224.3180 today.
Quote
"Penumbra Theatre is a classical, historical and, cultural mecca that allows for a platform for Black people to work, create...to thrive as artists."
—PaviElle French, Emmy Award-Winning Artist