Unleashing Our Art
For Social Change
Today, under Artistic Director Sarah Bellamy's leadership, we are evolving into our next life cycle: a performing arts campus and center for racial healing that nurtures black artists, advances equity, and facilitates wellness for individuals and community.
Art is at the heart of this vision. More than a transactional exchange between artists and patrons, it intentionally blurs the lines between artists and audiences to foster shared vision and beloved community. Creative expression and social practice is the way: a way of being in the world, of rescuing and rehabilitating one another, of practicing civic engagement and breaking toxic patterns and ways of relating, of building more compassionate and equitable communities.
The vision is guided by Bellamy's theoretical framework that will guide all curricular development program design and strategy building for the center. The dynamic flow between these three elements creates resiliency, addresses harm, and emboldens leadership. Inside it is a structure for consciousness raising, empowerment, restoration, skills building, and action planning:
Acknowledge. Engage with historic abuse and trauma.
Attend. Detoxify our bodies and tend to the vulnerable.
Address. Address racial inequity with responsible, informed action.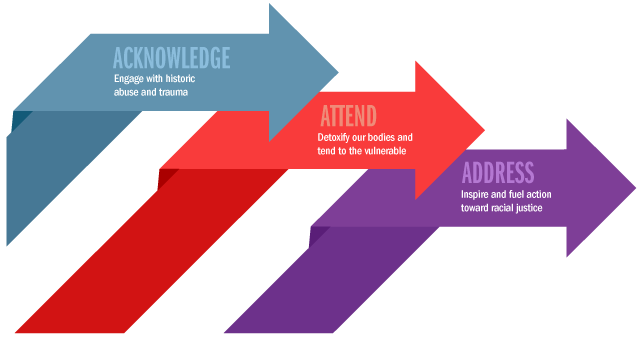 More Information
BECOME A NEXT
GENERATION MEMBER!
Join our movement to create transformational change for individuals and communities! A gift in any amount supports vital preparatory work for our next lifecycle as a performing arts campus and center for racial healing. Your donation will go directly to supporting artists of color as we develop the holistic programming that Penumbra will offer.
Members will receive:
• Special access to virtual readings and workshops by artists
• Guided meditations and reflections to support healing
• Opportunities to participate in the planning process
• News about the Penumbra Center for Racial Healing
• More!
A donation in any amount helps to sustain our company and grow our impact in the community. Donate online or by calling 651.224.3180 today.
Quote
"As an institution that has been serving our community for more than four decades, the Penumbra Center for Racial Healing will be a beacon for all of us as we move through these uncertain times towards a brighter future for our children and grandchildren."
—Mayor Carter