Yolande Bruce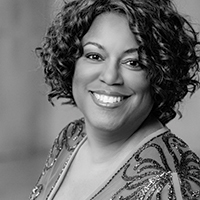 Yolande Bruce (Soloist & Choir Director) is best known as a member of the award-winning vocal jazz group Moore by Four, Yolande has performed nationally and internationally, and opened for such legendary acts as Dizzy Gillespie, Sarah Vaughn, and BB King. She has received many honors and awards including those from The Hallie Q. Brown Center, The Selby Jazz Association, The Minnesota Music Awards, and most notably by the Minnesota Black Music Awards with their Legacy Award. Yolande has performed in many of the top performing arts venues both locally and regionally, including The Dakota Jazz Club, The Fitzgerald Theatre, and Orchestra Hall. She has also performed in the annual production of Black Nativity at Penumbra Theatre; 2-Gether, Living Beauty, and For Our Daughters at Illusion Theatre; Dream On Monkey Mountain at the Guthrie Theater; Blues in the Night at The Ordway Theatre; and Adrift on the Mississippi for the History Theatre.
More Information
BECOME A NEXT
GENERATION MEMBER!
Join our movement to create transformational change for individuals and communities! A gift in any amount supports vital preparatory work for our next lifecycle as a performing arts campus and center for racial healing. Your donation will go directly to supporting artists of color as we develop the holistic programming that Penumbra will offer.
Members will receive:
• Special access to virtual readings and workshops by artists
• Guided meditations and reflections to support healing
• Opportunities to participate in the planning process
• News about the Penumbra Center for Racial Healing
• More!
A donation in any amount helps to sustain our company and grow our impact in the community. Donate online or by calling 651.224.3180 today.
Quote
"As an institution that has been serving our community for more than four decades, the Penumbra Center for Racial Healing will be a beacon for all of us as we move through these uncertain times towards a brighter future for our children and grandchildren."
—Mayor Carter