Yolande Bruce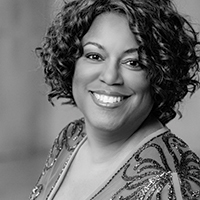 Yolande Bruce (Soloist & Choir Director) is best known as a member of the award-winning vocal jazz group Moore by Four, Yolande has performed nationally and internationally, and opened for such legendary acts as Dizzy Gillespie, Sarah Vaughn, and BB King. She has received many honors and awards including those from The Hallie Q. Brown Center, The Selby Jazz Association, The Minnesota Music Awards, and most notably by the Minnesota Black Music Awards with their Legacy Award. Yolande has performed in many of the top performing arts venues both locally and regionally, including The Dakota Jazz Club, The Fitzgerald Theatre, and Orchestra Hall. She has also performed in the annual production of Black Nativity at Penumbra Theatre; 2-Gether, Living Beauty, and For Our Daughters at Illusion Theatre; Dream On Monkey Mountain at the Guthrie Theater; Blues in the Night at The Ordway Theatre; and Adrift on the Mississippi for the History Theatre.
More Information
SUPPORT THE ART YOU LOVE!
For over four decades Penumbra Theatre has been a beacon welcoming everyone in our community to open their hearts and minds to be nourished by the unique power of theatre. Stand with us to sustain the art you love and grow its impact.
$50 Can give a week of healthy meals to one activist artist-in-training.
$100 Can underwrite two tickets to a performance so that price is never a barrier to great art.
$250 Can provide access for one person to attend every single event this season.
$500 Can subsidize Summer Institute tuition costs for one teen
A donation in any amount helps to sustain our company and grow our impact in the community. Donate online or by calling 651.224.3180 today.
Quote
"Summer Institute gave me a purpose as a woman and person of color to share my personal experience without oppression and judgement."
—Rahila Coats, Summer Institute Alumna