Ashe Lab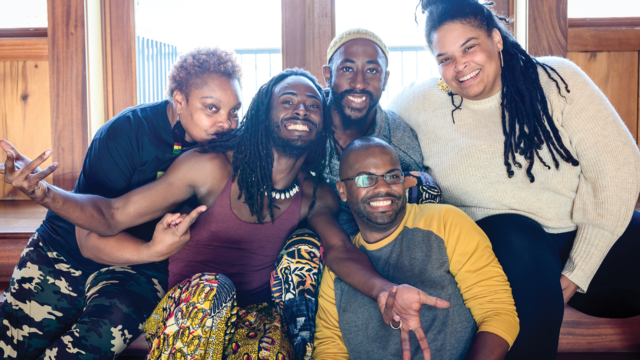 The Ashe Lab is a two year interdisciplinary residency program nurturing black artists to create beautiful, radical, life-giving art that answers our communities' most pressing needs.
The program convenes an intimate cohort of artists to work collaboratively to create a single performance piece informed by discussion with black community in Minnesota. The work will then tour to other regions affected by the issues explored by the art to present, learn, and record hyperlocal experiences of systemic issues affecting black community. Our goal is to aggregate and share knowledge and solutions as the tour progresses, building multidimensional comprehension of the issues lifted by the art while creating profound expressions of place.
Penumbra Theatre's Ashe Lab is made possible by the generous support of the Andrew W. Mellon Foundation, the Jerome Foundation, the Headwaters Foundation for Justice, and the Pan African Community Endowment.
Photo Credit: Caroline Yang
More Information
SUPPORT THE ART YOU LOVE!
For over four decades Penumbra Theatre has been a beacon welcoming everyone in our community to open their hearts and minds to be nourished by the unique power of theatre. Stand with us to sustain the art you love and grow its impact.
$50 Can give a week of healthy meals to one activist artist-in-training.
$100 Can underwrite two tickets to a performance so that price is never a barrier to great art.
$250 Can provide access for one person to attend every single event this season.
$500 Can subsidize Summer Institute tuition costs for one teen
A donation in any amount helps to sustain our company and grow our impact in the community. Donate online or by calling 651.224.3180 today.
Quote
"Summer Institute gave me a purpose as a woman and person of color to share my personal experience without oppression and judgement."
—Rahila Coats, Summer Institute Alumna