FAQs
How can I get involved?
There are three key ways to support us today. Visit our website at https://www.penumbratheatre.org/racialhealing to learn more:
Spread the word by sharing the announcement on your social media platforms.
Share your dreams for the center in our online survey.
Donate to the Penumbra Center for Racial Healing at any level to become a "Next Generation" advocate. Your donation will support our planning and get you access to center updates, special performances, healing practices, and more.
I have ideas about the center – who can I share them with?
We want to hear your ideas for the Penumbra Center for Racial Healing! Complete our short online survey and help us dream about our future. In the coming months we will conduct listening circles and it is essential that our planning is deeply informed by our community.
What does my donation support?
Donations will support a multifaceted planning and program design process over the next 12-18 months. This process will gather artists, healers, educators, community partners, patrons, donors, company members, and more to build the vision.
Who is the center for?
The fight for racial justice needs many hands and hearts working together. The Penumbra Center for Racial Healing will continue the legacy of Penumbra by centering black people and the black experience. Penumbra's center for racial healing will also learn from and support people of color who are not black and welcome and support white individuals interested in building resiliency and competency for racial equity work. We are already developing specialized curricular tracks designed to promote healing from the embodied racial trauma embedded in our shared national history. The Penumbra Center for Racial Healing will also actively stand in solidarity with and support indigenous communities upon whose land our space is located.
Our work will attract a broad array of visitors, from casual theatre-goers to those seeking to deepen creative and social practices around racial equity and social justice. The broad umbrella and goal of Penumbra going forward will be to push people to engage in racial healing work, whether on our stage, in our classrooms, or in our studio spaces.
What will live at the Penumbra Center for Racial Healing?
Visitors to the center will be welcomed to experience:
The arts: The theatre season will include an annual repertory festival featuring interdisciplinary new work as well as main stage shows, panel conversations, and educational programs throughout the year. Artists in residence will develop new work and resiliency strategies in response to what is on Penumbra's stages.
Racial equity: Year-round racial equity work led by artists will include lectures, workshops, seminars, and a leadership training institute for individuals and cohorts. The center will offer an opportunity to learn about and address the enduring disparities facing the black community, raising awareness and offering tangible strategies for solution.
Wellness: A wellness program will feature a full fleet of holistic, culturally specific healing services, including meditation, yoga, acupuncture, massage, and more, informed by a curriculum especially designed to detoxify bodies from the stresses of living in a racially stratified society.
Can I still see plays at Penumbra? Will Penumbra still be a theatre?
Art is at the heart of every aspect of this vision. You will still be able to experience the powerful, artistically excellent drama for which Penumbra has been known for 44 years. From celebrating black culture to bearing witness to our difficult past, the Penumbra Center for Racial Healing will continue to inspire with classics from the black theatre canon and newly commissioned work.
Is Penumbra currently closed?
As a precautionary measure to ensure the health and safety of our patrons, artists and staff, Penumbra's leadership and board has made the decision to cancel all events through 2020. We encourage leaders and business owners to consider that black and brown communities are especially vulnerable to COVID-19 as they develop plans to reopen to the public. When the conditions are right to reopen, we look forward to welcoming the community back into the theatre.
How might COVID-19 impact Penumbra and this vision for the center?
Like so many across the country, our planning meetings and information gathering will happen virtually until it is safe to gather. We are embracing new technologies that will allow us to receive even more feedback and guidance from change-makers across the country as we all do our best to stay healthy and care for our communities.
What is racial healing?
People from all backgrounds are affected by living in a racialized society and can experience trauma associated with racism. For black, indigenous, and people of color, this experience is acute, systemic, and requires immediate triage as well as sustained support to build resiliency. White people also experience trauma under this system when they are required to participate in the dehumanization of others. Racial healing addresses this trauma and holds space for rage, fear, grief, and understanding. It allows people to heal from the wounds of the past and build mutually respectful relationships across racial and ethnic lines in ways that honor each person's humanity. We intend to restore, uplift, and empower black, indigenous, and people of color; and to inspire and task our white allies with practical, vital action toward racial equity. The Penumbra Center for Racial Healing is a brave space where the community is called in to learn, rejuvenate, and stand up in support of racial equity.
What is the role of art or artists at the Penumbra Center for Racial Healing?
Artists are the foundation of the Penumbra Center for Racial Healing. We will gather cultural producers, provocateurs, change-makers, leaders, healers, sleuths, and storytellers to guide our vision and dream of a healing space for all people. Artists will guide and benefit from ways to be well, to detoxify from racism, and to address inequity through performances, classes, workshops, training, and healing services. Artists will be in residence throughout the year developing new work and resiliency strategies in response to what is on stage. Artists will also have access to healing services to care for themselves as they care for the community.
Are you building a new venue?
We are currently in the research and development stage and will remain focused on visioning the needs of the future space. After our planning phase, we will know more about what facilities will be needed for us to realize this vision. It is our sincere hope to stay rooted in the Rondo neighborhood where we have been a legacy institution led by, for, about, and near the black community for 44 years.
When will the Penumbra center for racial healing be open?
We are engaging in an intensive design process over the next 12-18 months that will inform the needs of the future center. During this time, we will conduct listening circles, develop curriculum, and test programming. The timeline for opening the center will be informed by this design process.
I have additional thoughts, questions, and ideas–how can I share them?
Email us at info@penumbratheatre.org!
ARTIST SPOTLIGHT: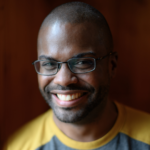 More Information
MAKE A GIFT
Stand with us to sustain the organization you love and grow our impact and become a Baobab Family member. Your contributions breathe life into every performance, every educational program, and every social justice initiative. Your gift makes you a member of this dedicated family for the year–you can donate at any time and as often as you want. Click here to donate online today!
Quote
"How are we going to take the songs of all of this wonderful flock here and weave them together to create this great orchestra that will sing the song of healing? "
—Seitu Ken Jones