Greta Oglesby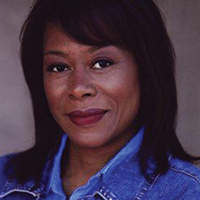 Greta Oglesby made a big splash in the theater community when she played the lead in Tony Kushner's Caroline or Change at the Guthrie Theatre in Minneapolis. Her performance was variously described as "ravishing," "indelible," "powerful," "magnificent," "heartbreaking, "brilliant," and "the best performance on a Twin Cities stage this year." Oglesby won the Ivey award for that performance. Greta's resume includes 5 seasons at the Oregon Shakespeare Festival, Crowns, Burial at Thebes, Sunshine Boys, and Appomattox at the Guthrie, Gem of the Ocean and Amen Corner at the Goodman Theatre in Chicago, and several plum roles at Penumbra Theatre, including Piano Lesson, Ballad of Emmett Till, and Black Nativity. Greta has recently published a book entitled "Mama N Nem…Handprints On My Life" (Kirkhouse).
More Information
SUPPORT THE ART YOU LOVE!
For over four decades Penumbra Theatre has been a beacon welcoming everyone in our community to open their hearts and minds to be nourished by the unique power of theatre. Stand with us to sustain the art you love and grow its impact.
$50 Can give a week of healthy meals to one activist artist-in-training.
$100 Can underwrite two tickets to a performance so that price is never a barrier to great art.
$250 Can provide access for one person to attend every single event this season.
$500 Can subsidize Summer Institute tuition costs for one teen
A donation in any amount helps to sustain our company and grow our impact in the community. Donate online or by calling 651.224.3180 today.
Quote
"Penumbra doesn't just recreate what we see–it makes us see! "
—T. Mychael Rambo