Greta Oglesby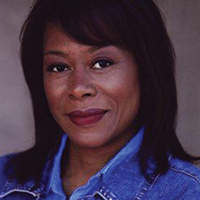 Greta Oglesby made a big splash in the theater community when she played the lead in Tony Kushner's Caroline or Change at the Guthrie Theatre in Minneapolis. Her performance was variously described as "ravishing," "indelible," "powerful," "magnificent," "heartbreaking, "brilliant," and "the best performance on a Twin Cities stage this year." Oglesby won the Ivey award for that performance. Greta's resume includes 5 seasons at the Oregon Shakespeare Festival, Crowns, Burial at Thebes, Sunshine Boys, and Appomattox at the Guthrie, Gem of the Ocean and Amen Corner at the Goodman Theatre in Chicago, and several plum roles at Penumbra Theatre, including Piano Lesson, Ballad of Emmett Till, and Black Nativity. Greta has recently published a book entitled "Mama N Nem…Handprints On My Life" (Kirkhouse).
More Information
BECOME A NEXT
GENERATION MEMBER!
Join our movement to create transformational change for individuals and communities! A gift in any amount supports vital preparatory work for our next lifecycle as a performing arts campus and center for racial healing. Your donation will go directly to supporting artists of color as we develop the holistic programming that Penumbra will offer.
Members will receive:
• Special access to virtual readings and workshops by artists
• Guided meditations and reflections to support healing
• Opportunities to participate in the planning process
• News about the Penumbra Center for Racial Healing
• More!
A donation in any amount helps to sustain our company and grow our impact in the community. Donate online or by calling 651.224.3180 today.
Quote
"How are we going to take the songs of all of this wonderful flock here and weave them together to create this great orchestra that will sing the song of healing? "
—Seitu Ken Jones