Lester Purry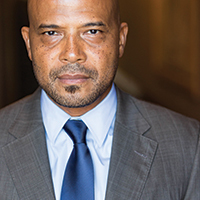 Veteran actor Lester Purry was a football player who was introduced to the world of theater during his senior year in high school, which lead to 17 lead roles while attending Mars Hill University. Lester started acting professionally with summer stock but, it was what seemed an ambitious move to Minnesota for an actor of his type with only $13 in his pocket, that proved to be the key to launching a long and thriving career filled with extraordinary acting opportunities.
A highly respected Regional Theatre performer, Lester has graced numerous stages over his thirty-year tenure in the business, including, Baltimore's Center Stage, The Philadelphia Theatre Company, Studio Theatre in Washington D.C., Arden Theatre in Philadelphia, Dallas Theatre Company, The Southern Appalachian Theatre Company, Savannah Theatre Company, Nebraska Shakespeare Festival and The Alabama Shakespeare Festival where he met lovely his wife Toni Johnson-Purry.
The long time company member, credits Penumbra founder Lou Bellamy and his performance in Fool for Love during his first year in the Twin Cities, that inspired him and it was attending August Wilson's play Ma Rainey's Black Bottom at Penumbra that fueled his determination to become a Penumbra company member.
Since 1991 Lester has played dozens of roles on Penumbra's stage, many of which were characters in August Wilson plays. Lester has also performed lead roles at The Illusion Theatre, Minnesota Opera, Chanhassen Dinner Theatre, Mixed Blood, The Children's Theatre Company, The Guthrie Theatre's national tour of Othello, as Othello.
Lester currently resides in Los Angeles, California with his wife and has starred in several independent films, shorts, commercials and he works as a voice over actor, as well.
More Information
BECOME A NEXT
GENERATION MEMBER!
Join our movement to create transformational change for individuals and communities! A gift in any amount supports vital preparatory work for our next lifecycle as a performing arts campus and center for racial healing. Your donation will go directly to supporting artists of color as we develop the holistic programming that Penumbra will offer.
Members will receive:
• Special access to virtual readings and workshops by artists
• Guided meditations and reflections to support healing
• Opportunities to participate in the planning process
• News about the Penumbra Center for Racial Healing
• More!
A donation in any amount helps to sustain our company and grow our impact in the community. Donate online or by calling 651.224.3180 today.
Quote
"As an institution that has been serving our community for more than four decades, the Penumbra Center for Racial Healing will be a beacon for all of us as we move through these uncertain times towards a brighter future for our children and grandchildren."
—Mayor Carter